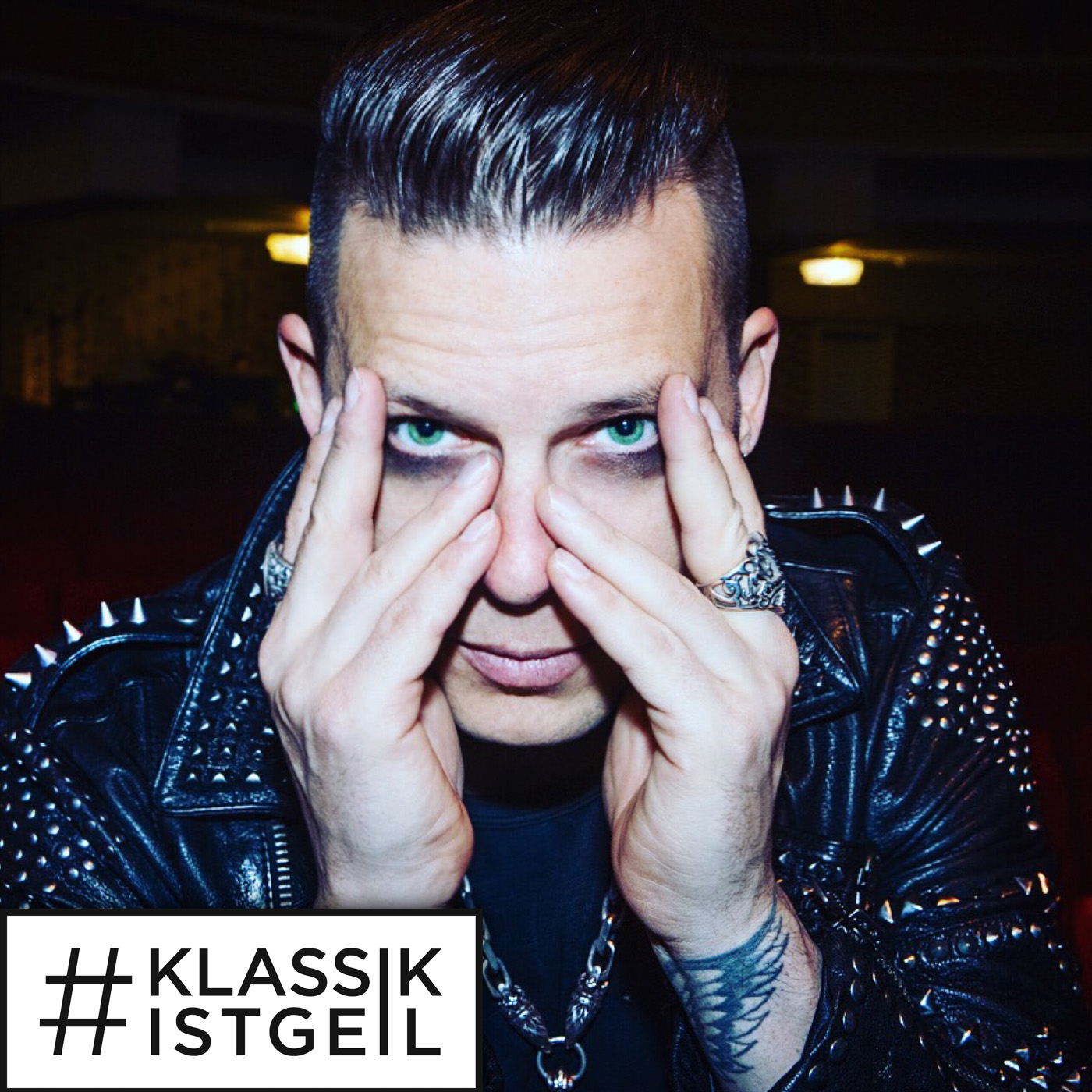 Mozart, Beethoven und Bach waren die Popper, Punker und Rocker ihrer eigenen Zeit. Sie waren hip, trendy und einfach mega in. Warum gelten heute aber nur Rock, Pop und HipHop als cool, während Klassik es im Mainstream nicht zu sein scheint? In meinem Podcast komme ich mit Gästen ins Gespräch, die selbst Künstler, Pädagogen, Musiker oder Politiker sind. Ich möchte zusammen mit diesen Gästen hinter die Kulissen und durch die unzähligen Schlüssellöcher schauen.
Episodes
Monday Mar 11, 2019
Monday Mar 11, 2019
Hi and welcome to my new podcast Klassik ist Geil, I'm the Dark Tenor and I'm happy you're in for this very first episode.
My thing is: Take a famous classical tune, write lyrics and glue it all together with my own melodies born in Pop and Rock! I am stepping up  to show you the cool side classical Music! Mozart, Beethoven and Bach were the poppers, punkers and rockers of their own time!
For the first 4 episodes I met the musicians of my band Backstage and asked them about their personal experiences with me on tour and how they swing between classical music, rock, pop, metal and the German genre Schlager.
My Life has been all about classical Music. 8 years Dresdner Kreuzchor and 2 years in the extra choir of the Semper Opera in Dresden set me up with some nice classical training.
But at some point I had this total overflow of classical music and thought, something else MUST exist out there. As a teenager, I had already made friends with the bass guitar and later the electric guitar. I saw so many parallels in Rock bands i loved and Classical Masterworks by, for example, Beethoven and Bach! But why do Green Day and Metallica for instance seem cooler than classical Masterminds?
An idea was born! Together with my producer Bernd Wendlandt, and songwriters I developed a way how classical music could be given a slight image change.
Follow my Podcast:
Spotify: https://spoti.fi/2Tv51o7
iTunes: https://apple.co/2ThwJ8C
YouTube: https://bit.ly/2TuOzFm
Podbean: https://bit.ly/2UqbUEl
Smetana's Moldau became one of the first tracks to convert into a new classical experience! Again, I added new melodies, lyrics and a song structure you'd recognize from mainstream Pop and Rock Songwriting! But i didn't want to stop at older music.
YIRUMA´s river flows in you had been a huge success with the twilight trilogy! As far as I'm concerned new classical music finds a huge home in movies or even games! Their melodies may even become known worldwide! Yiruma agreed to rerecord his famous Piano piece creating a brand new song. River flows on the Edge. New Classical Music. 
Even though we all love Music its just not enough right? What about that Live experience? Thats where the magic happens right? But i didn't want to be the next tattooed Tenor.
I wanted the live show to be a one of a kind evening!
Remembering my Opera life i knew i wanted to stage something spectacular!
With a designer i developed a Metal mask to wear, and suddenly, adding a hood, I looked like Assassin's Creed. That worked for me !!! And off we went through forests across lakes at the break of dawn! It was a great experience! For the 2nd album, Nightfall Symphony I learned to ride a horse and made some crazy videos in Iceland. It was an incredibly impressive journey. But all this was topped! My third album, Symphony of Ghosts took me on a trip to Namibia where we shot all videos for this new work. 6 Days and 3.600 Kilometers in Jeeps. But Symphony of Ghosts would also be a change for my personal life. I unmasked the persona The Dark Tenor. This new album really sums these last 4 years. I decided to meet some of those ghosts I knew were always there but never had the courage to speak to. I did not only unmask the Artist but also released a lot of what had happened in my personal life.
So here's my Motto:#klassikistgeil
In my podcast, my guests are artists, educators, musicians or politicians. I would like toa take a closer look at the great composers, classical music and music of all genres, take a look behind the scenes. Was Mozart only divine or even a gambler and poor all his life as he enjoyed everything to the fullest? Why did Beethoven deny that he wrote the Moonlight Sonata out of a romantic feeling for a woman just to dedicate the piece to a piano student?
Questions Questions Questions!
Let's take a look from the OTHER Side of Classical Music!
Some podcasts will be in English others in German!
Do not forget to subscribe, write a review and tell me about guests you would like to hear. Stay tuned for more to come! Greetings from the dark side of classical music!
Follow my Podcast:
Spotify: https://spoti.fi/2Tv51o7
iTunes: https://apple.co/2ThwJ8C
YouTube: https://bit.ly/2TuOzFm
Podbean: https://bit.ly/2UqbUEl
Follow my #klassikistgeil-Playlist on Spotify: https://spoti.fi/2H2XcAa
I am on Tour: "Laut und Akustisch"-Tour 2019.
Get your Tickets and VIP Meet and Greets here:
https://www.thedarktenor.com/tickets
31.10.19 Bremerhaven - Stadthalle
01.11.19 Zwickau - Ballhaus
02.11.19 Halle - Händelhalle
15.11.19 Berlin - Columbia Theater
16.11.19 Berlin - Columbia Theater
21.11.19 Köln - Gloria
22.11.19 Bochum - Christuskirche
23.11.19 Offenbach - Capitol
Can´t get enough? I recommend my Tour Playlist on Spotify: https://spoti.fi/2XGCr26
YouTube: www.youtube.com/thedarktenortv
Spotify: https://open.spotify.com/artist/2GIKcsT0xfsxpYUZ5yX2tL?si=wp2vQvzpSbKzlTYRhtCfHQ
Apple: https://itunes.apple.com/de/artist/the-dark-tenor/726708169?l=de
Instagram: https://www.instagram.com/thedarktenor
Facebook: https://www.facebook.com/thedarktenor